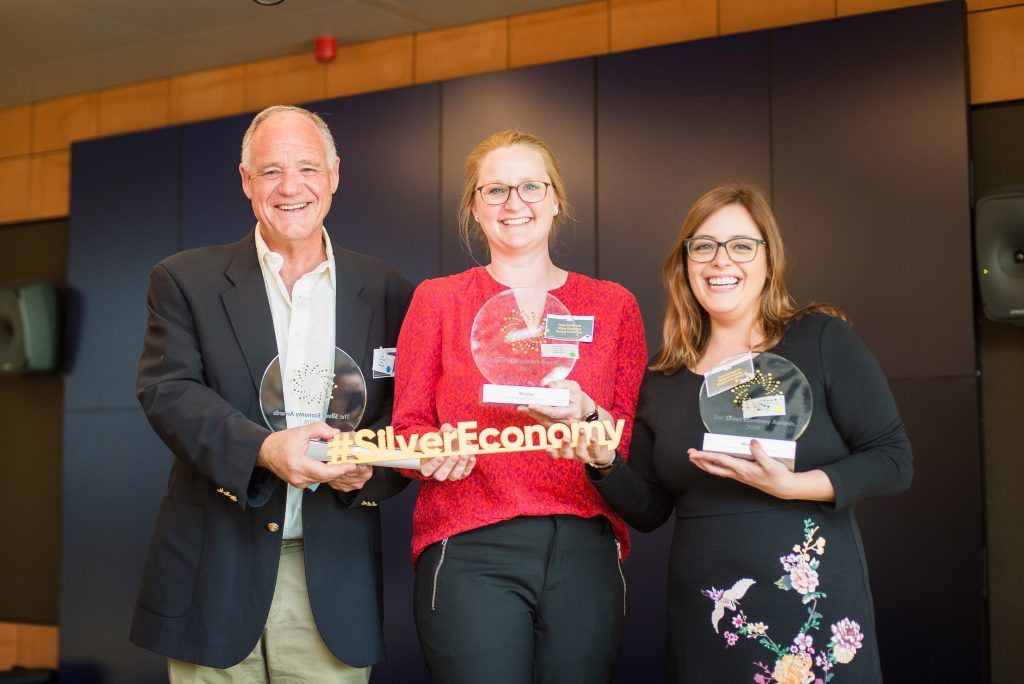 BRUSSELS, Belgium, 20-May-2018 — /EPR Healthcare News/ — On Thursday May 3, the first edition of the European Silver Economy Awards has celebrated its winners under the patronage of Mariya Gabriel, Commissioner for Digital Economy and Society, and Markku Markkula, First Vice-President of the Committee of the Regions. The ceremony took place at the Committee of the Regions in Brussels and has been designed as an event that brings together key speakers and innovators from both the public and private sector.
The first prize in the category Public Authorities has been awarded to the Health Innovation Centre of Southern Denmark (Denmark) for their Generic Telemedicine Platform. The Fraunhofer Institute Portugal (Portugal) submitted a tool for fall prevention and detection (GoLive Solutions) and was the winning Non-for Profit Organisation. Introducing a smartphone solution (RAY Solutions) for visually impaired people, ProjectRay (Israel) has won in the category For Profit Organisation.
The Silver Economy Awards have been launched to recognise and reward innovative ICT solutions from all sectors, to raise awareness of the potentials of this section of the economy and to bring together European stakeholders under a common goal: supporting and improving the quality of life of older persons in society. On behalf of Commissioner Gabriel, Cabinet Member Manuel Mateo Goyet described the first Silver Economy Awards as representing a "milestone on our way towards becoming a truly age-friendly Europe", and promoted the ceremony as "a unique occasion to send a very positive message on how we see the future of ageing" showing "the true value of collaboration in Europe".
Celebrating the nine finalists and their dedication to making Europe an age-friendlier place, Markku Markkula, host and moral patron of the Silver Economy Awards, declares his acknowledgement: "I want them in my region". More than 95 applications coming from 22 countries have been submitted for consideration in three awards categories referring to the type of organisation. Over 40 Silver Economy experts were involved in the three-staged evaluation process to determine Winner, Second and Third.
For more details on the winner entries and an overview of the final ranking of the first European Silver Economy Awards 2018 edition please visit www.silvereconomyawards.eu/sea/2017/awards#Winners.
SOURCE: EuropaWire