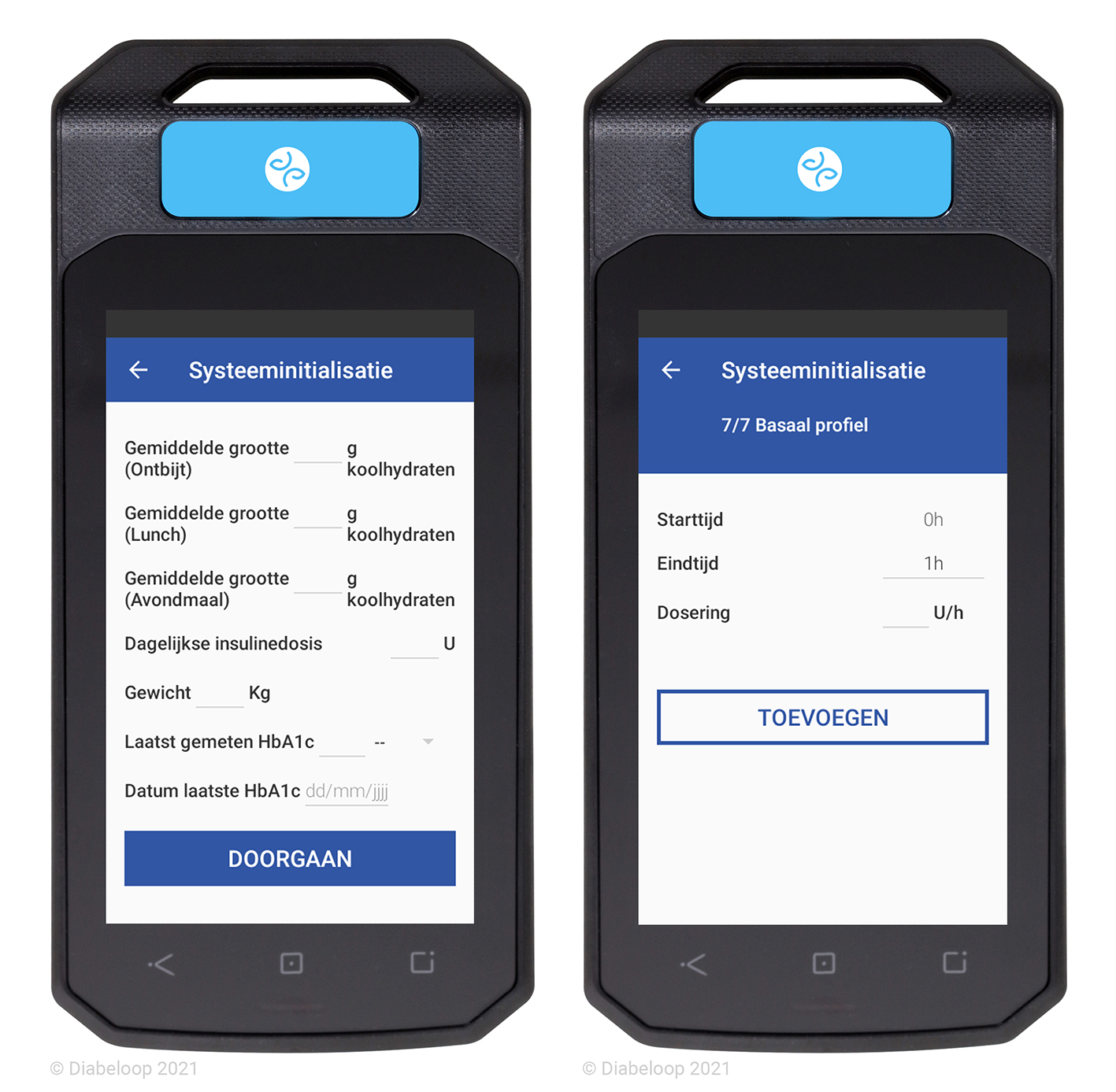 PARIJS, 2-Jun-2021 — /EPR HEALTHCARE NEWS/ — Vanaf het begin heeft Diabeloop innovatieve systemen ontwikkeld om de behandeling van diabetes type 1 te automatiseren en te personaliseren, waarbij altijd rekening wordt gehouden met de optiek van de patiënt. Het Franse bedrijf streeft ernaar autonomie te geven aan mensen die met diabetes type 1 leven en tegelijkertijd de gebruikerservaring te optimaliseren zodat behandeling van diabetes eenvoudiger en minder ingrijpend is. Het DBLG1-algoritme biedt een bevredigende, geautomatiseerde en gepersonaliseerde ervaring met minimale input van de patiënt.
DBLG1: eenvoudige installatie, gebruiksvriendelijk, ontworpen voor elk diabetes type 1 profiel
De zware mentale last op de schouders van mensen met diabetes type 1 verlichten, begint in de eerste fasen van de ervaring met DBLG1. Gebruikers hoeven maar 4 gegevens in te voeren in het allernieuwste DBLG1-algoritme voor een veilige, geautomatiseerde en gepersonaliseerde insuline-afgifte. In de opzetfase voeren gebruikers van DBLG1 hun lichaamsgewicht in, hun totale dagelijkse insulinedosis (TDD), hun gebruikelijke maaltijden (in grammen koolhydraten) en hun basale insulinebehoefte (alleen voor open-loop). Voor het Diabeloop-algoritme zijn geen ingewikkelde berekeningen nodig. Gebruikers hoeven hun maaltijdratio niet uit te zoeken, noch hun insuline gevoeligheidsfactor noch hun insuline actiecurve.
De 4 gegevens die de patiënt in de beginfase invoert, zijn voldoende voor het DBLG1 zelflerend algoritme om te functioneren, te berekenen en de insulinedosis zo nodig elke vijf minuten aan te passen.
"We hebben het DBLG1-algoritme zo ontworpen dat het zo eenvoudig mogelijk in gebruik is voor mensen met diabetes type 1 en gebruikers tegelijkertijd de gelegenheid hebben bepaalde parameters nauwkeuriger in te stellen afhankelijk van hun specifieke behoeften en/of leefstijl. Het algoritme houdt automatisch rekening met eventuele wijzigingen die mensen invoeren. Het DBLG1-algoritme optimaliseert de werking automatisch zonder dat de patiënt hier iets voor hoeft te doen. Wijzigingen verlopen op die manier heel soepel en worden vrijwel "onzichtbaar" voor de gebruikers van het systeem" – vertelde Yousra Tourki, Head of Algorithms Design bij Diabeloop.
Naast de eerste input biedt het DBLG1 System ook de mogelijkheid aan mensen die met diabetes type 1 leven om de behandeling en beheersing van hun diabetes nauwkeurig in te stellen met behulp van aanpasbare instellingen zoals de agressiviteit van het algoritme, de grenswaarden van hypo's en hypers en de streefwaarde van de glucosespiegel.
Nicole Wetzels, Trainer voor Roche Diabetes Care in Nederland en gebruikster van het DBLG1 System met Accu-Check Insight, vertelt: "Ik leef al meer dan 42 jaar met diabetes type 1 en ben een paar maanden geleden begonnen met het gebruik van het DBLG1 System met een Accu-Chek insulinepomp. De opzet was heel eenvoudig: de batterij in het apparaat doen, de handset opladen en maar 4 parameters invoeren. Het invoeren van een maaltijd is een van de weinige dingen die ik zelf moet doen en ook dat is heel simpel! Maar ik heb tevens de mogelijkheid het systeem te personaliseren door bepaalde instellingen aan te passen zoals de streefwaarde van de glucosespiegel of de grenswaarden voor de hypo … Met hele kleine acties heb ik hele goede resultaten. Dankzij dit AID-systeem hoef ik niet meer de hele dag bezig te zijn met het beheersen en behandelen van mijn diabetes. Het is net of mijn diabetes type 1 op vakantie is!"
DBLG1 AID-systeem: minimale input van de patiënt nodig
Om de bruikbaarheid van het DBLG1 System te beoordelen heeft Diabeloop een wetenschappelijk onderzoek uitgevoerd op basis van reële gegevens afkomstig uit de klinisch proef (1) die vóór de lancering vanhet systeem is gerealiseerd. Het doel was het analyseren van het aantal instellingswijzingen door mensen die het systeem in het dagelijkse leven gebruiken. In de eerste week dat patiënten het DBLG1 System gebruikten, voerden ze gemiddeld slechts 1.6 instellingswijzigingen uit (± 2.3), en maar 0.2 wijziging (± 0.5) in de laatste week van de proef na 11 weken gebruik.
De belangrijkste conclusie is dat in het dagelijkse leven, wanneer de gebruikers zich niet in een beheerste omgeving bevinden zonder specifieke medische follow-up en/of aanbevelingen voor instellingswijzigingen van hun zorgteam, de mensen uitgerust met het DBGL1 System minimale aanpassingen hoeven uit te voeren om te profiteren van een bevredigende, geautomatiseerde en gepersonaliseerde diabetesbehandeling.
Verdere wetenschappelijke analyse (2) toont de gebruiksvriendelijkheid aan van het Automated Insulin Delivery-systeem van Diabeloop. Deze analyse gaf aan dat in de eerste week, 50% van de mensen die het DBLG1 System gebruikten, geen instellingswijzigingen uitvoerden. Bovendien wijzigden meer dan 85% van de mensen uitgerust met het systeem geen enkele instelling gedurende de 8ste week van gebruik.
Dit bevestigt dat het zelflerend algoritme van Diabeloop vanaf de beginfase de behandeling van diabetes type 1 optimaliseert en minimale input van de patiënt nodig heeft om de vereiste ondersteuning te bieden.
Bernhard Gehr, arts en diabetoloog, Centrum voor Diabetes en Metabole ziekten, gespecialiseerde kliniek m&i Fachklinik Bad Heilbrunn, licht toe: "Ik gebruik het DBLG1 System met de Accu-Chek Insight insulinepomp. De opzet en de eerste handelingen zijn zeer eenvoudig. De eenvoud van de gebruikersinterface maakt snelle en makkelijke invoer van de benodigde informatie mogelijk. Ik ben echt onder de indruk van de prestaties van het DBLG1 System. Vanaf de eerste dag had ik een goede controle over mijn stofwisseling. Ik heb veel meer gemoedsrust aangezien ik veel minder aan mijn diabetes hoef te denken! Dit systeem vereist minder tot vrijwel geen micromanagement van mijn behandeling. Ik was aangenaam verrast over hoe goed het algoritme tijdens de eerste nacht functioneerde, met zo weinig input in de beginfase."
Met DBLG1 beheersen mensen hun eigen diabetesbehandeling
Het DBLG1 System is gebruiksvriendelijk en kan gepersonaliseerd worden zodat mensen die met diabetes leven verschillende instellingen kunnen beheersen.
In het dagelijkse leven biedt het DBLG1 System mensen de mogelijkheid de aan te passen zodat insuline-afgifte bijgesteld wordt om een hypo of hyper te voorkomen. Een van de onderzoeken (3) van Diabeloop, gepresenteerd op ATTD 2021, onthulde dat een daling van de glucosespiegel streefwaarde over het algemeen een vergelijkbare daling van de gemiddelde glucospiegel tot gevolg heeft. Bijvoorbeeld, -10% van de glucosespiegel streefwaarde leidt tot -10% van de gemiddelde glucosespiegel.
In overeenstemming met de missie van Diabeloop om de zware mentale last op de schouders van mensen met diabetes type 1 te verlichten en hen een ongestoord leven te bieden, bevat het systeem een Zen-modus, ontwikkeld op basis van de ervaringen van patiënten. Deze modus verhoogt tijdelijk de doelwaarde van de bloedsuikerspiegel: om rustig naar de bioscoop te gaan of een vergadering bij te wonen zonder een verstorende hypoglykemie en de bijbehorende waarschuwingssignalen, kunnen gebruikers de Zen-modus aanzetten zodat hun glucosespiegel tijdelijk en voor een door hen ingestelde tijd verhoogd wordt.
Een persoon die het DBLG1 System met Accu-Check Insight insulinepomp gebruikt, vertelde: "Zen-modus is voor al die momenten waarop je je "veiliger" wil voelen: tijdens het autorijden, op school, tijdens een examen."
Een wetenschappelijk onderzoek (4) geleid door Diabeloop en gepresenteerd op ATTD 2021, toonde aan dat 90 minuten na de activering van de Zen-modus, de impact op de gemiddelde glucosespiegel gestabiliseerd was zonder de hyperglykemie te verlengen.
De conclusie is dat, voor een tijd die door de patiënt wordt bepaald, de Zen-modus de gebruikers uit een hypo houdt en tevens een hyper voorkomt. De Zen-modus leidt tot een lichte verhoging van de gemiddelde glykemie met een zeer beperkte impact op de time-in-range.
Het eenvoudige gebruik van het DBLG1 zelflerend algoritme draagt bij tot een ongecompliceerde diabetesbehandeling en haalt een mentale last van de schouders van mensen die leven met deze chronische ziekte zodat ze ongestoord kunnen leven!
SOURCE: EuropaWire