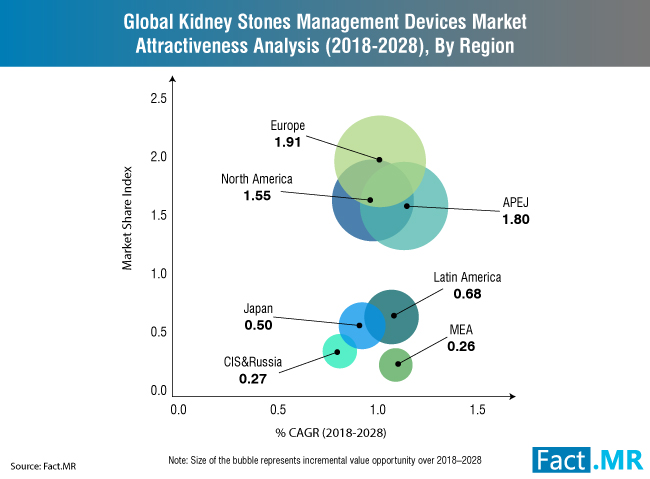 DUBLIN 2, Ireland, 30-Oct-2018 — /EPR HEALTHCARE NEWS/ — Fact.MR has recently announced the launch of a new research study that delivers key market insights on kidney stone management management devices. The comprehensive report on kidney stone management devices market offers actionable intelligence, offering volume and value projections for a 10 year timeline (2018-2028).
Free sample of the kidney stone management devices market report is available on the below link.
https://www.factmr.com/connectus/sample?flag=S&rep_id=1827
Key Insights from Report:
United States remains the largest market for kidney stone management devices, accounting for over 88 percent of global sales in 2017
Eastern Europe and United Kingdom led demand for kidney stone management devices in Europe during 2018 and the trend is likely to continue in the future as well
Sales are encouraging in EU-4; growth is relatively slower than UK and Eastern European countries. EU-4 is likely to create significant opportunities for market players
Hospitals are the key sales channel, accounting for nearly 50% of total sales in 2017
Higher end user preference for lithotripsy devices, particularly extracorporeal variants prevails – lithotripsy devices will remain the top-selling segment in 2019 and beyond
Lithotripsy Devices Lead the Rally

Fact.MR reveals that sales of extracorporeal lithotripsy devices accounted for over 73 percent of the lithotripsy sales and over 60 percent of overall kidney stone management device sales in 2017, surpassing those generated from ureteroscopes and nephroscopes.
The demand for lithotripsy devices across developed countries of the United States and the EU-4 is projected to expand at a significant pace in the coming years. Sales of kidney stone management devices in United States alone are likely to cross US$ 200 Mn by end of 2018-end, maintaining the status quo of the country as the most attractive market.
The US remains a lucrative market for stakeholders, reflecting a 1.5x lead in sales over EU-4 combined and a 1.2x lead over China, India and ASEAN in 2018.
Kidney Stone Management Devices Sales
Country
2013
2015
2017
2018
2020
2025
2028
US
XX
XX
XX
XX
XX
XX
XX
EU-4
XX
XX
XX
133.2
XX
XX
XX
China, India and ASEAN
XX
XX
XX
XX
XX
XX
XX
(Note: All above figures are in US$ Mn)
Speak to the authors of the report for additional information on the redacted figures  
Medical Tourism Hubs in Asia: The New Growth Frontiers

Kidney stone management devices are likely to witness increasing traction among emerging economies in the Asia Pacific, such as China and India, albeit at a lower base. China remains lucrative, maintaining a 1.5X lead over India in 2018. India and ASEAN currently account for less than 10% share of the global market; however, opportunities abound as these countries position themselves as global medical tourism hubs.
For direct purchase of the kidney stone management devices market report, please click on the link below:
https://www.factmr.com/checkout/1827/S
SOURCE: EuropaWire