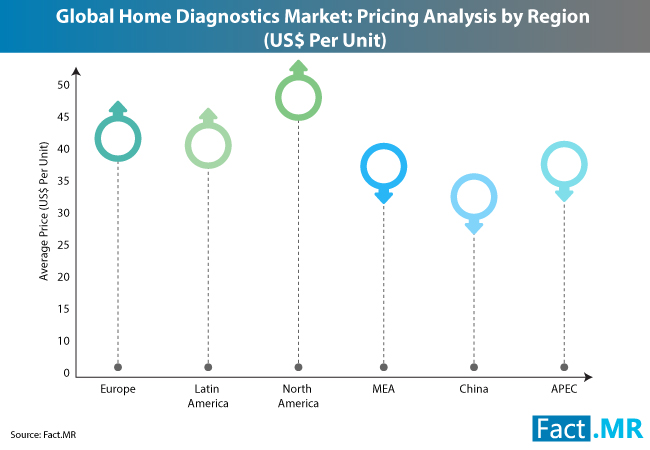 DUBLIN 2, Ireland, 18-Oct-2018 — /EPR HEALTHCARE NEWS/ — The European home diagnostics industry is realigning to foster integration with the broader customer-centric healthcare services. Growing consumer preference for home-based diagnostics, combined with innovation in online platforms, is creating sustained opportunities in this dynamic landscape. Riding on the coattails of these factors, the US$ 1.4 billion Europe home diagnostics market is likely to grow at 3.4% CAGR during the period 2018-2026.
Consumer Preference for Non-Invasive Glucose Monitoring Devices Still Remains Unmet 
Glucose monitoring kits and devices remain the top-selling product, accounting for over 80% revenue share of the Europe home diagnostics market. The burgeoning demand for home-based glucose monitoring devices and kits can be attributed to growing prevalence of diabetes in Europe, which is increasing across all ages according to the WHO. The Fact.MR study opines that digital devices will remain the preferred choice over cassettes among European consumers.
The broader trends pertaining to non-invasive and painless diagnostics are driving innovation in glucose monitoring device development. According to the Fact.MR study, non-invasive glucose monitoring devices are likely to witness increasing penetration in Europe, albeit at a slow pace. The report also finds that broader innovation in non-invasive devices can drive healthcare consumerism across Europe.
Request a sample of the report
https://www.factmr.com/connectus/sample?flag=S&rep_id=1892
The Fact.MR study remains optimistic on the future growth in Europe's home diagnostics market, however, challenges prevail. "Self-testing, especially for people with type 1 diabetes, who require daily or frequent testing, remains a painful and inconvenient process. Over the decades, the innovation in glucose monitoring devices hasn't really addressed the invasive part of the self-testing", says Mr. Santosh Kumar, Senior Consultant at Fact.MR. "There is an urgent need for non-invasive glucose monitoring testing," adds Mr. Kumar.
The Fact.MR study finds that home diagnostics manufacturers are aware of the evolving demand. Investment and research into developing minimally or non-invasive home diagnostics devices is gaining ground. "The realization that digital, and non-invasive devices are the future is dawning upon manufacturers. Market leaders, such as Siemens Healthcare and Abbott Technologies are leveraging wearable technologies and IoT to develop innovative products," says Mr. Kumar.
Growth in Pregnancy and Ovulation Predictor Test Kits Sales Encouraging 
Although glucose monitoring devices and kits will account for the majority of sales, encouraging trends in other self-test kits continue to complement market growth. Pregnancy test kits and ovulation predictor test kits are likely to witness surging demand, as an increasing consumer base feels confident about self-testing. Gains are also encouraging, albeit miniscule, in other home diagnostics products, such as urinary tract infection kits and male infertility test kits.
UK Maintains its Numero Uno Position, Germany and France Remain Lucrative
The Europe home diagnostics market remains concentrated in the UK, Germany, and France. These three markets collectively account for a market share of nearly 60% revenue share of the Europe home diagnostics market. The Fact.MR study opines that these three markets will witness increasing proliferation of next-gen home diagnostics devices.
Request methodology behind the report
https://www.factmr.com/connectus/sample?flag=RM&rep_id=1892
Fact.MR study on the home diagnostics market brings interesting insights to the fore. According to the report, UK remains Europe's largest market for home diagnostics, with revenues to the tune of US$ 280 million in 2017. The study opines that UK will maintain its numero uno position throughout the course of the forecast period 2017-2026. Germany and France will follow suit, however, sales will grow at a sluggish pace in the former.
The report also finds that home diagnostics devices that use urine and blood for testing will continue to remain pervasive in the Europe home diagnostics market. Samples devices and kits that use semen and breath are expected to witness growth during the course of the forecast period.
Buy the report
https://www.factmr.com/checkout/1892/S
SOURCE: EuropaWire