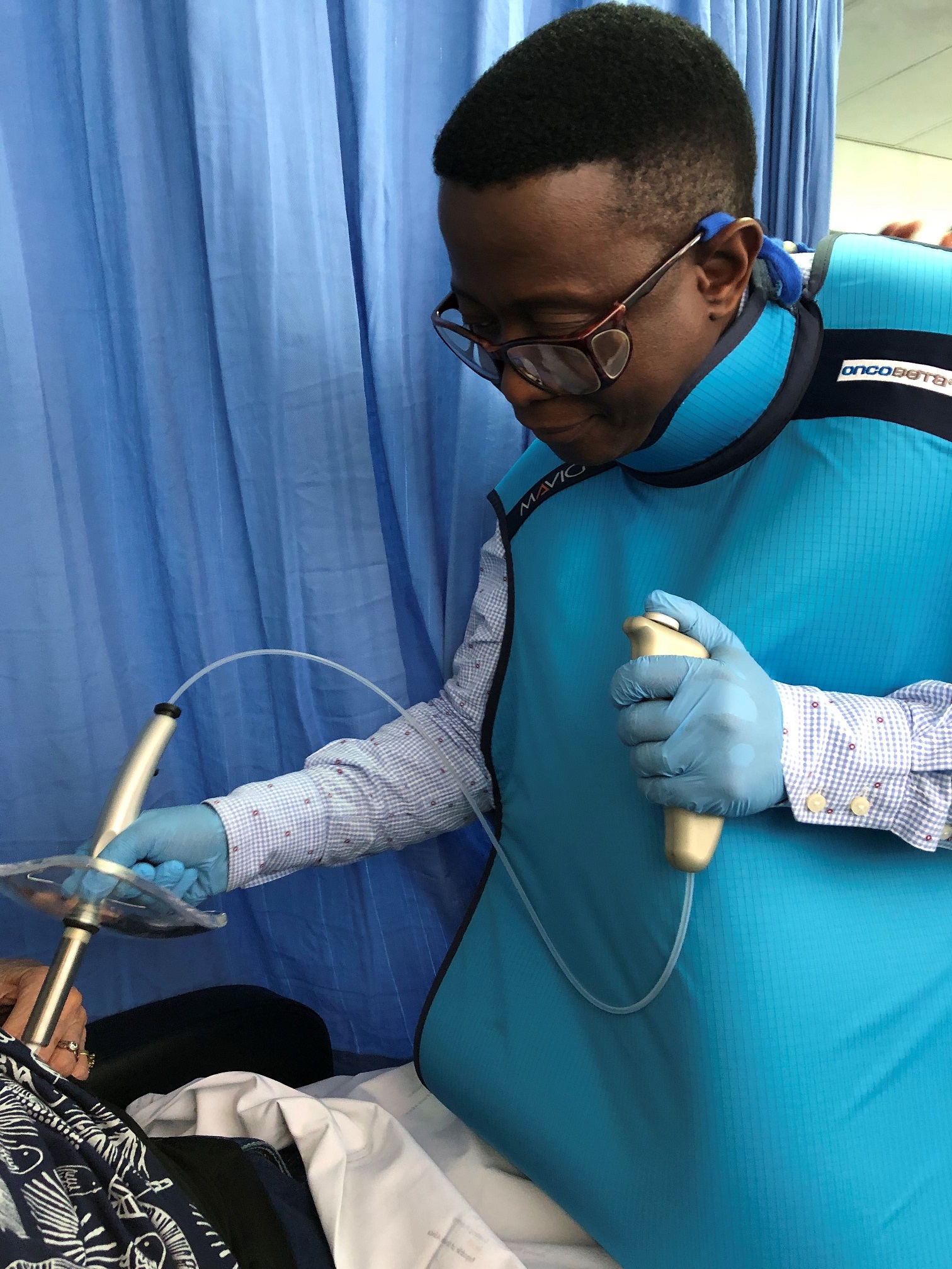 Garching n. Munich, Germany, 26-Nov-2018 — /EPR HEALTHCARE NEWS/ — OncoBeta® GmbH, a commercial stage Medical Device Company specialized in innovative epidermal radioisotope therapies for Non-Melanocytic Skin Cancers (NMSCs), announced today that Prof. Mike Sathekge from the University of Pretoria, Steve Biko Academic Hospital Nuclear Medical department and his clinical team has treated the first non-melanocytic skin cancer patients in South Africa with the innovative Rhenium-SCT® skin cancer treatment System. This next-generation radionuclide therapy technology applied by the nuclear medicine physician offers a new singles session, painless treatment for patients suffering from Basal Cell – and Squamous Cell Carcinomas (BCCs and SCCs).
The global incidence of non-melanoma skin cancers has drastically increased over the few past decades. Depending on the source, it is estimated that there are over 5 million non-melanoma skin cancer cases reported globally each year. Approximately 80% of non-melanoma skin cancers are basal cell carcinomas or squamous cell carcinomas with South Africa having one of the highest incidence rates in the world.
Prof. Mike Sathekge and his team at the University of Pretoria, Steve Biko Academic Hospital are focused on providing patients with personalized care using state-of-the-art technology that can deliver high-precision therapy and diagnostics with minimal side effects. The specialized team of experts in the nuclear medicine and medical physics, work closely with other disciplines within the university hospital, referring physicians, and other institutions, to ensure patients receive the best possible treatment for their specific type of cancer.
Martin Magwaza, CEO of Tautomer (PTY) LTD Oncobeta®'s distribution partner for the Rhenium-SCT® in Africa, is dedicated to providing South Africans with new innovative and effective therapies across the continent, coordinating with representatives from all levels of government and state for the health care landscape.
"The start of the Rhenium-SCT® in South Africa is a significant milestone in the international expansion of our ground-breaking treatment for BCCs and SCCs.," said Shannon D. Brown III, CEO and Managing Director of OncoBeta® GmbH. "Our vision of bringing a revolutionary affordable skin cancer therapy to physicians and patients all over the world has come one step closer today".
SOURCE: EuropaWire