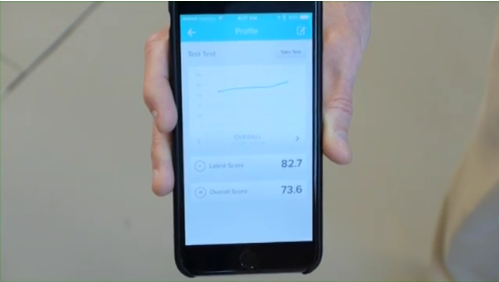 TULSA, OK, 08-Sep-2016 — /EPR HEALTHCARE NEWS/ — Sway Medical is a US medical device company who's software turns an iPhone or iPad into a mobile medical device that provides immediate medical grade, objective concussion measurement to medical professionals.
Sway Medical LLC (Sway) would like to announce its official availability in all European Union Countries. Sway was issued its CE Mark after being marketed in the United States and Canada for two years. This is significant because European sports organizations ranging from youth through pro level now have an affordable and convenient sideline assessment tool supporting concussion related medical decision making. Medical professionals and trained coaches can obtain a concussion assessment via an Apple mobile device (iPhone or iPad) and the Sway Balance™ System web-portal. Acute objective measurements are obtained by performing a 1.5 minute balance and reaction time test protocol. Licensed athletic trainers, physical therapists and athletic therapists are able to join physicians in acutely managing the underserved market of youth sports, ages six and older.
Concussion injuries are very common in sports, often going un-reported or ignored until the obvious symptoms have incapacitated the athlete or draws the attention of a parent or coach. Second Impact Syndrome (SIS) is a serious medical condition with published mortality rates of up to 50%. SIS occurs when an athlete returns to play while still recovering from an initial concussion injury. During this time, the brain is highly susceptible to additional injury and complications. The Sway Balance™ System is able to accurately assess and track the acute and chronic outcome related to an athlete's balance, motion reaction time and concussion symptoms. The Sway Balance™ System provides a graphical representation comparing suspicious injury event tests against a pre-injury "normative" or baseline score. The comparison of event tests against an established baseline is a common measurement for traumatic brain injury diagnosis and recovery tracking.
The Sway Balance™ System is available for purchase by licensed medical professionals involved in school, occupational or sports medicine through www.swaymedical.com. Additional protocols are available to assess an individual's "Fall Risk" or "Functional Status".
SOURCE: EuropaWire