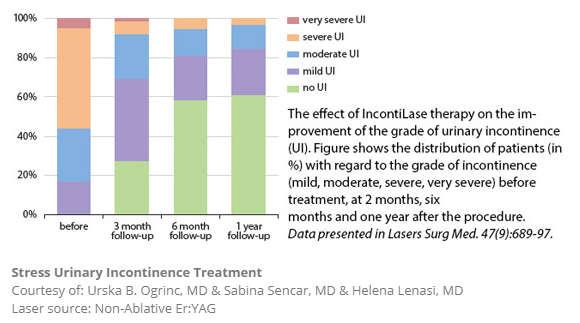 LJUBLJANA, Slovenia, 21-Sep-2018 — /EPR HEALTHCARE NEWS/ — The latest study published in the World Journal of Urology (Comparison between erbium‑doped yttrium aluminum garnet laser therapy and sling procedures in the treatment of stress and mixed urinary incontinence – https://doi.org/10.1007/s00345-018-2445-x) provides further confirmation that Fotona SMOOTH® laser technology is a safe, effective and minimally-invasive solution for stress and mixed urinary incontinence (SUI and MUI). The article, written by Dr. Nobuo Okui, compares Fotona's minimally invasive IncontiLase® Er:YAG laser therapy with the more conventional TVT and TOT surgical sling procedures.
Asian Study Confirms Favorable Results of Fotona SMOOTH® Laser Therapy for Urinary Incontinence
In the study performed by Dr. Okui, 50 Japanese women were treated either surgically (tension-free vaginal tape – TVT or transobturator tape – TOT) or with a Fotona laser. The 1-h pad test, ICIQ-SF, and overactive bladder-symptom score were used to assess the patients before and 12 months after treatment. Laser therapy was performed by first applying a local anesthetic to the vaginal wall and then inserting a probe into the vagina. Laser irradiation was performed for 20 min with an Er:YAG wavelength of 2940 nm (Dynamis XS, Fotona) for a total of three treatments (alternating every month). Results of the 1-h pad test and ICIQ-SF showed comparable improvements in SUI in the sling and laser therapy groups, while some of the patients with MUI in the TVT and TOT groups showed exacerbation. In conclusion, the TVT and TOT procedures and the laser therapy are comparable for SUI; however, laser therapy is superior in terms of MUI and complications. The study thus once again confirms the safety and efficacy of Fotona SMOOTH® laser therapy for urinary incontinence.
Urinary Incontinence Treatment Options
Conventional treatment options for urinary incontinence are surgical, and include TVT or TOT sling procedures, which involve inserting a synthetic material. Problems often arise with artificial meshes that require new treatment methods. With the Fotona SMOOTH® Er:YAG laser thermotherapy (also known as IncontiLase®), the goal is to provide a minimally invasive therapy based on vaginal collagen hyperthermia followed by collagen remodeling and new collagen synthesis, which results in overall regeneration of aged or stressed vaginal tissues and subsequently greater support to the bladder.
Unique Fotona SMOOTH® Technology for Maximum Safety
Patient safety is the primary concern and, for this reason, the patented Fotona SMOOTH® technology holds a very unique position within the spectrum of gynecological treatment options. It is a non-surgical procedure (no incisions) and without implants or appliances. The Fotona SMOOTH® method of dual-tissue regeneration is completely non-ablative and therefore minimally invasive to the vaginal wall. The treatment involves an additional superficial heat-shocking mechanism of tissue regeneration, and a unique self-regulating safety feature. These dual-tissue regeneration characteristics of the Fotona SMOOTH® Er:YAG laser allow for an exceptionally high degree of safety and efficacy in thermotherapy of the vaginal wall. This is what makes Fotona SMOOTH® a significantly safer alternative to many widely used and more-invasive procedures.
Evidence-Based Laser Medicine
Over the past few years numerous (over 35) other studies on Fotona SMOOTH® laser therapy have been published by distinguished gynecologists from around the globe in some of the most trusted and renowned international scientific journals, all with favorable results (https://www.laserandhealthacademy.com/en/practitioners/recommended-reading/gynecology/). One such noteworthy clinical paper published in March 2018 by Dr. Adolf Lukanovic and Dr. Mija Blaganje is the first randomized controlled trial study (on 114 premenopausal parous women) to evaluate the efficacy and safety of non-ablative Er:YAG laser therapy as an alternative non-invasive treatment of SUI and the improvement of sexual gratification (published in the European Journal of Obstetrics & Gynecology and Reproductive Biology. 2018 (224): 153-158). The results from this study indicate that a single session of IncontiLase® treatment improves the impact of SUI symptoms on quality of life and sexual function in premenopausal parous women significantly better than placebo.
In another Asian study, Dr. Yi-Wen Tien et al. from the Chang-Hua Hospital in Taiwan examined the effects of laser treatment for female SUI on pad weight, urodynamics, and sexual function in 35 women (published in the International Urogynecology Journal. 2017; 28(3): 469-476). The study reveals that the effect of IncontiLase® treatment for mild SUI was moderate at the 6-month follow-up. Moreover, it improved LUTS, quality of life, and the sexual function of both partners. The authors conclude that the IntimaLase® procedure is very effective in the treatment of SUI and is not associated with any severe adverse effects.
Similarly, Dr. Yi-Hao Lin et al. from the Chang Gung Memorial Hospital in Taiwan obtained favorable results. Their study investigated the effects of non-ablative laser treatment on overactive bladder (OAB) syndromes, SUI and sexual function in 30 women with urodynamic stress incontinence (published in the Taiwanese Journal of Obstetrics & Gynecology. 2017 (56): 815-820). The results showed that IncontiLase® treatment can resolve SUI and coexistent OAB symptoms three months after therapy, while repeated laser therapy may be necessary after six months. The results also revealed that sexual gratification improved, while no major adverse effects were noticed.
The quantity and quality of the studies performed with Fotona SMOOTH® laser therapy is such that Fotona's Dynamis has been cleared in the European Union for SUI (IncontiLase®), vaginal laxity – vaginal relaxation syndrome (IntimaLase®), genitourinary syndrome of menopause – GSM (RenovaLase®) and pelvic organ prolapse (ProlapLase®), giving women the option to choose a safer and less-invasive treatment alternative. In Asia, the Taiwan Food and Drug Administration has already cleared Fotona Dynamis for mild to moderate SUI, and the Singapore Health Sciences Authority has cleared the Dynamis for the treatment of SUI and GSM.
SOURCE: EuropaWire